The 2017 Scholarship Raffle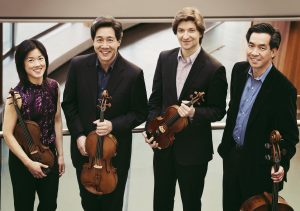 Win a once in a lifetime chance to have the Ying Quartet perform for you and your guests. The Ying Quartet will perform in your home, or at a venue that you arrange, during the 2017 Season, at a mutually agreed upon time.
Only 100 chances will be sold at $100 per chance!
The winning number will be drawn at the Scholarship Gala on June 27th. The winner does not have to be present.
All proceeds of the Raffle will fund scholarships for students attending the Bowdoin International Music Festival.
Part of the Festival's mission is to provide quality music education to advanced students from all backgrounds, regardless of their economic circumstances or geographic location. More than 70% of student participants receive scholarships that enable them to attend the Festival.
With your support, we can continue to train gifted young musicians and present superb classical music to Maine communities and beyond.