The Jupiter String Quartet July 24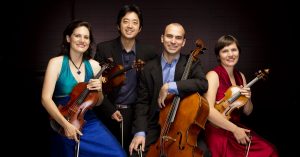 The Festival is happy to present the Jupiter Quartet on July 24, 2017. It will be the fifth concert in the Festival's Monday Showcase series featuring world-renowned string quartets in Bowdoin's Studzinski Recital Hall. The Festival is delighted to welcome  the Jupiter String Quartet this season for this concert program. Artists-in-residence at the University of Illinois, the Jupiter String Quartet maintains a busy touring schedule across the globe, and has performed complete Beethoven cycles at Aspen and at MIT. Tonight they share their interpretations of early and late Beethoven, and will be joined by pianist Elinor Freer for this season's freshest composition: Pierre Jalbert's Piano Quintet, just premiered by the Quartet in March 2017. 
The Jupiter String Quartet is a particularly intimate group, consisting of violinists Nelson Lee and Megan Freivogel, violist Liz Freivogel (older sister of Meg), and cellist Daniel McDonough (husband of Meg, brother-in-law of Liz). As they enter their thirteenth year of making music together, the members of this tightly-knit ensemble have firmly established their quartet as an important voice in the world of chamber music. In addition to their performing career, the Jupiters are the String Quartet-in-Residence at the University of Illinois in Champaign-Urbana, where they maintain private studios as well as responsibility for running the chamber music program.
The Jupiter String Quartet places a strong emphasis on developing relationships with future classical music audiences through outreach work in school systems and other educational performances. They believe that chamber music, because of the intensity of its interplay and communication, is one of the most effective ways of spreading an enthusiasm for "classical" music to new audiences.
Tickets, subscriptions, and flex passes are now on sale for all of the Festival's summer concerts. All Monday Showcase concerts take place at 7:30 PM in Bowdoin College's Studzinski Recital Hall. Individual tickets are $45 and subscriptions are $230. Monday subscriptions allow patrons to hear five of the world's finest string quartets play together as well as collaborate with Festival faculty. To order tickets visit bowdoinfestival.org or call 207-725-3895.
"The Jupiter Quartet is in the midst of an exceptional career, grasping the highest levels of achievement in both performance and instruction," says Executive Director Daniel Nitsch. "This duality of expertise fits perfectly with our summer program, enabling the quartet to engage audiences and pupils with their dynamic virtuosity and mentorship."