Presenting the Rolston String Quartet July 3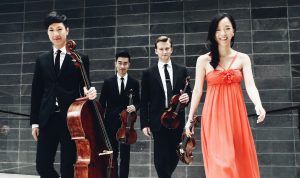 The Festival is pleased to present the Rolston String Quartet on July 3, 2017. It will be the second concert in the Festival's Monday Showcase series featuring world-renowned string quartets in Bowdoin's Studzinski Recital Hall. Rising stars in chamber music, the Rolston String Quartet won first prize at the 2016 Banff International Competition and will arrive at the Festival fresh off their first European tour. Formed in Canada in 2013, they bring the work of their compatriot composer R. Murray Schafer, whose research into natural soundscapes and the rhythmic patterns of waves inspired his String Quartet No. 2. In the second half they will be joined by internationally-renowned violist Dimitri Murrath for a transitional quintet in which Beethoven offers glimpses of his later style.
Praised for "chim[ing] the most resonantly with the ideals of perfect quartet playing" (Calgary Herald), the Rolston String Quartet won First Prize at the 12th Banff International String Quartet Competition and is a winner of the 2016 Astral Artists National Auditions. They have also won First Prize at the 31st Chamber Music Yellow Springs Competition, Third Prize at the inaugural M-Prize Competition, and the Durosoir Prize at the 2016 Bordeaux International String Quartet Competition. Performances have taken them throughout the United States, Canada, and Europe in venues such as the Kennedy Center, Harris Hall, Koerner Hall, and the Auditorium de Bordeaux. Notable collaborations include performances with renowned artists Andrés Díaz, Gil Kalish, Mark Morris, Donald Palma, Jon Kimura Parker, and Miguel da Silva. Additionally they have worked closely with composers John Luther Adams and Brian Current.
Tickets, subscriptions, and flex passes are now on sale for all of the Festival's summer concerts. All Monday Showcase concerts take place at 7:30 PM in Bowdoin College's Studzinski Recital Hall. Individual tickets are $45 and subscriptions are $230. Monday subscriptions allow patrons to hear five of the world's finest string quartets play together as well as collaborate with Festival faculty. To order tickets visit bowdoinfestival.org or call 207-725-3895.
"The young Rolston String Quartet has quickly established a place for themselves in the chamber music scene," says Executive Director Daniel Nitsch. "Their upcoming performance calendar is compelling and we are thrilled to welcome them in the midst of their enthralling rise as an ensemble."