Ying Quartet Opens the Festival June 26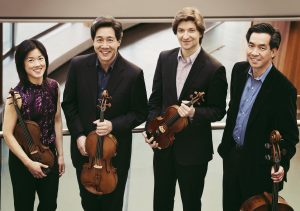 The  Festival is delighted to present the Grammy award winning Ying Quartet on June 26, 2017. The performance will be the first concert in the Monday Showcase series which features world renowned string quartets in Bowdoin's Studzinski Recital Hall. The Ying Quartet opens the Festival season with a brilliantly-crafted program showcasing the diversity of Russian music, from Prokofiev's folk-inflected String Quartet No. 2, composed at the outbreak of World War II, to "Souvenir de Florence," Tchaikovsky's musical postcard from his favorite vacation spot – with Stravinsky's early neo-Classical gem along the way. Although composed within a range of fifty-two years, these works seem worlds apart, alluding to the immense historical and artistic upheavals that characterized the early twentieth century.
The Ying Quartet occupies a position of unique prominence in the classical music world, combining brilliantly communicative performances with a fearlessly imaginative view of chamber music. Now in its second decade as a quartet, the Quartet has established itself as an ensemble of the highest musical qualifications in its tours across the United States and abroad. Their performances regularly take place in many of the world's most important concert halls. The Quartet's belief that concert music can be a meaningful part of everyday life has drawn the foursome to perform in settings as diverse as the workplace, schools, juvenile prisons, and the White House.
Tickets, subscriptions, and flex passes are now on sale for all of the Festival's summer concerts. All Monday Showcase concerts take place at 7:30 PM in Bowdoin College's Studzinski Recital Hall. Individual tickets are $45 and subscriptions are $230. Monday subscriptions allow patrons to hear five of the world's finest string quartets play together as well as collaborate with Festival faculty. To order tickets visit bowdoinfestival.org or call 207-725-3895.
"The Ying Quartet is in many ways a Festival gem, chiefly in that their cellist and violist offer brilliant guidance and vision as Festival Artistic Directors," says Executive Director Daniel Nitsch. "Through the quartet's long-time involvement with the Festival and international reputation, they provide incredible mentorship and inspiration for our students year after year."