Festival Returns to Brunswick for 2021 Season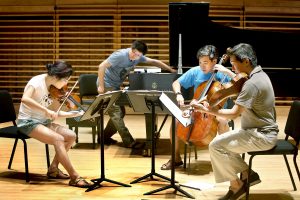 The Bowdoin International Music Festival is set to return to Brunswick this summer, gathering world-renowned musicians and students for an intensive schedule of chamber music study and performance. The decision to return in person was made last week at a special meeting of the Festival's board. "Our priority this summer is the health and safety or our students, faculty, staff, and community," says Elliot Rosen, chair of the board. "Momentum around vaccinations paired with Bowdoin College's effective health procedures assured us we can indeed safely convene in person."
The Festival will welcome 200 students, 50 faculty, and 20 staff to the Bowdoin College campus, a slightly reduced enrollment to allow for implementation of health and safety protocols. Students will follow policies similar to those developed by Bowdoin College during the past academic year. Many of these protocols, such as distancing and mask wearing, are familiar to Festival participants and relatively easy to implement. Others, such as quarantining upon arrival, frequent COVID testing, and isolation procedures for anyone who tests positive, present challenges to teaching and learning. Despite the hurdles, the Festival is eager to return to in-person education after COVID forced the 2020 season online for the first time since its founding in 1964. "Bowdoin College's success at providing an outstanding academic experience while effectively managing the virus's spread has given the Festival confidence heading into our season," says Grace Bell, Director of Admissions and Operations. "We are fortunate to use the college's existing safety infrastructure created and honed over the past two semesters."
These safety restrictions do not come without sacrifices to the summer experience. While much of the usual curriculum will proceed unaltered, the Festival will look different than past seasons. Most consequentially, it is unlikely that public audiences will be permitted on campus. Instead, concerts will be livestreamed online from Studzinski Hall, free to community members and viewers around the world. In addition, the Festival will restrict enrollment to ages 16 and older, aligning with vaccine eligibility in most states. International student attendance may decrease due to travel restrictions and obstacles facing participants from abroad. The Festival will offer online lessons for these younger and international students. The Festival's popular Community Concert outreach program will also be curtailed, subject to campus "bubble" regulations and any restrictions adopted by community venues.
Increased costs associated with health, safety, and testing, along with loss of ticket sales leave the organization facing a significant operating deficit. However, Daniel Nitsch, Festival Executive Director, describes the organization's financial model as flexible and resilient. "The Festival is fortunate to hold a strong financial position, especially for an arts non-profit during a pandemic. We have sufficient operating reserves and budget adjustability to support the proposed changes for this season without material change to our overall financial health. The driver of this financial strength is the support from our community of donors and foundations. This summer is possible because of their generosity, even in the face of adversity, and will be critical as we move forward post-pandemic."
The challenges have not deterred Artistic Directors David Ying and Phillip Ying, who are responsible for guiding the artistic principles and programs of the Festival, including both the education institute and concert series. They, like the Festival faculty, strongly desire a return to Brunswick. "Music is made best together, in-person," says Phillip Ying. "An online experience cannot replace the irresistible energy, spontaneity, and mutual inspiration created by this incredible gathering. Plus, we miss the lobster and gelato!"
The 2021 Festival is set to run from June 26 through August 7. To receive notice of this summer's schedule of events, sign up for the email list here.