Providing quality music education to advanced students from all backgrounds, regardless of financial circumstances or geographic location, is integral to the Festival's mission.
Student Sponsorships encourage highly qualified students attend the Festival. More than 70% of student participants receive scholarships that make the Festival experience possible. As a Sponsor, you can support a student's dream and make a long-lasting personal connection with a talented young musician.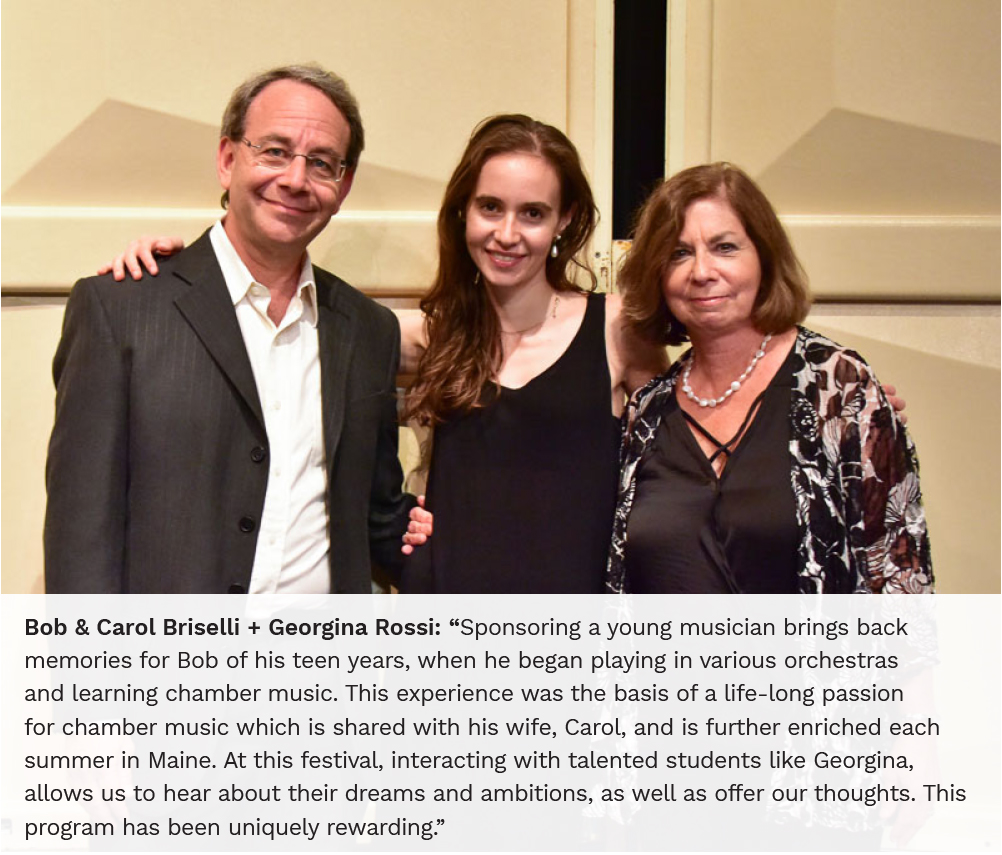 THANK you to our 2018 student sponsors
Christine & George Bachrach: 2018 Dr. Louis and Anne J. Bachrach Memorial Gift
Patricia Bonner
Selma S. Bornstein
Robert & Carol Briselli
Patricia Brown
Margy Burroughs
Drs. Susan & James Carter
Doug & Jane Collins
Nancy Rutledge Connery
Dr. & Mrs. Stephen Corson
Beatrice Français
Marta & Robert Frank
Peter & Harriette Griffin
Bill & Sally Haggett
Sam & Jan Hayward
Liz & Lew Incze
Sallie Smith Kise
Susan Lavan
Victoria & R. Patrick Miele
Kent & Natalie Mitchell
James T. Morgan
Dr. Richard & Sandra Neiman
Silvana & Christopher Pascucci
Hugh & Norma Phelps
Lenore & Norman Rapkin
Jan Roberson: Paul J. Lynskey Piano Scholarship
Bill & Mary Earl Rogers
Civia & Irwin H. Rosenberg
Claudia & Michael Spies
Dick & Ann Stephenson
Charles & Karen Sumner
Dominique van de Stadt & Octavio Pajaro
Katharine Watson
Sponsor Benefits & Levels
Student Sponsor Benefits
1. Opportunity to establish a lifelong connection with a rising young artist
2. Invitation to a Student-Sponsor special event
3. Personal alerts about sponsored student performances
4. Special Sponsor recognition throughout the Festival Season
5. Partnership in the fostering of a new generation of artists and artistry
Sponsorship Levels
Full Season Sponsorship
(tuition, room, board & fees)
$6,850
Single Session Sponsorship
(tuition, room, board & fees)
$3,800
Single Session Tuition Sponsorship
(tuition)
$2,000
Sponsorships are welcome for students in the instrumental, composition, fellowship, and collaborative piano programs.
To learn more about becoming a Student Sponsor, please contact us at 207-373-1400 or development@bowdoinfestival.org.