Q&A with Sarah Thomas, violin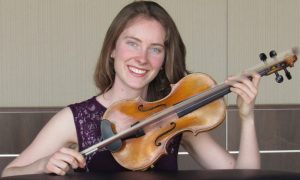 This past summer the Bowdoin International Music Festival welcomed 255 student participants from 27 countries and 30 states, including 17 remarkable Festival Fellows. Sixty-five percent of these participants received scholarship funds from the Festival. In celebration of an incredible 2016 season and in anticipation of an even better 2017 season, we've reached out to last year's participants to reflect on their experience at the Festival and their lives as musicians.
BIMF: What are some of your earliest musical memories?
Sarah: When I was little I remember falling asleep in my lessons while learning the Twinkle Variations. After hearing an older student perform Dvořák's "Humoresque," I turned to my mom and said "Mom, please help me keep practicing so I can play like that someday!" 
BIMF: At what age did you start playing your instrument?
Sarah: I started playing violin at three and a half.
BIMF: Does the instrument you play on have a story?
Sarah: When I chose my instrument, my teacher liked it so much that he wanted to buy one just like it.
BIMF: What is the longest you've ever spent preparing a piece of music?
Sarah: I have always dreamed of playing the Tchaikovsky Violin Concerto. I worked on it for ten months, studied it with four different teachers, and got to perform the whole concerto during my senior recital.
BIMF: If you could play with any musician who would it be and why?
Sarah: It would have to be Itzhak Perlman. Sometimes I play along with him on YouTube. Just watching the way he smiles and produces such a warm and sweet tone makes me a more relaxed player. He always reminds me of the uplifting power of music.
BIMF: How do you make a well-known piece of music your own?
Sarah: I think it is very important to understand the composer's intentions through research and score study, but then to make it your own by choosing characters and colors within the piece. I always want to tell a story through my music, so I assign narratives, emotions, and experiences from my life to each piece I play.
BIMF: How would you explain your passion for chamber music to a non-musician?
Sarah: Chamber music is like having a deep, intimate, and meaningful conversation with close friends. It challenges you to be honest and open about what you think and feel, while also being accepting of others' thoughts and experiences. It is thrilling to experience the way a variety of playing styles and perspectives unite to form a unique bond and interpretation of the music.
BIMF: What was one highlight of the 2016 Festival for you?
Sarah: One highlight of 2016 for me was performing in a masterclass with the Jupiter Quartet. They inspired me to find a greater variety of colors and characters in the music and reminded me that what I hear under my ear may not be what is projecting to the audience.
BIMF: What's next for you after the Festival?
Sarah: I will be applying to graduate schools to pursue a Masters in Violin Performance. I will also be performing in a string quartet and symphony and teaching elementary school orchestra students through El Sistema and public schools. I aspire to be in a major symphony orchestra.
BIMF: What advice would you offer to an aspiring musician?
Sarah: To all aspiring musicians, I would say never give up on your passion! There is a place for all of us in this world and we just have to work hard and keep an open mind to new possibilities. Do not get discouraged by what people say or how competitive the field may seem and always remember that music has the power to change, uplift, and bring people together like nothing else.