Q&A with Sarah Velasco, violin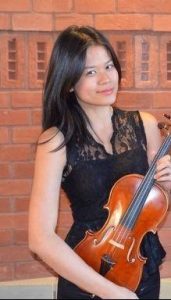 This past summer the Bowdoin International Music Festival welcomed 255 student participants from 27 countries and 30 states, including 17 remarkable Festival Fellows. Sixty-five percent of these participants received scholarship funds from the Festival. In celebration of an incredible 2016 season and in anticipation of an even better 2017 season, we've reached out to last year's participants to reflect on their experience at the Festival and their lives as musicians.
BIMF: What are some of your earliest musical memories?
Sarah: At a young age, I remember attending concerts at The Royal Conservatory of Music in Toronto. I grew up in Toronto, where classical music is extremely accessible and at such a high level, so I was really fortunate to have exposure to it as a child.
When I was around eight I attended something similar to a Juilliard pre-college program that happened on weekends at the conservatory. It was there that I was introduced to theory, music history, chamber music, etc. My mom also taught piano so I often heard that while trying to watch Disney movies at home…
BIMF: At what age did you start playing your instrument?
Sarah: I officially started around age three with the Suzuki method, like most people. Though, I apparently wasn't such a great student and my mom was fed up with me (haha), so she had me quit and I restarted a few years later.
BIMF: Does your instrument you play on have a story? How did it come to you?
Sarah: I currently perform on a Parravicini made in 1954, which I actually obtained during my second year at the Festival!
BIMF: What is the longest you've ever spent preparing a piece of music?
Sarah: I'll work on a piece for a certain period of time, take some time off of it and bring it back again. Sometimes if you let a piece sit, you'll come back to it with fresh ideas, a new outlook/take on it. Pieces you learn after the beginner and intermediate stage you work on and perform throughout your entire life.
BIMF: If you could play with any musician who would it be and why?
Sarah: I would say it would be with my mom, Helen. She has always been so supportive and is such a natural and musical pianist. I've seen old concert programs where she's soloed with orchestras, and comment sheets from some of her past competitions. It's so inspiring what she has accomplished.
BIMF: How do you make a well-known piece of music your own?
Sarah: You have to be knowledgeable and adhere to the stylistic expectations, while knowing when you can have artistic freedom and take the opportunity with that, and not overdo it. I think it's nice to listen to other musicians, but sometimes there's a habit to emulate what you hear, and while that's great in some ways it also comes with the problem of sounding like someone else. I think having your personality come through, and being tastefully spontaneous when the music allows you to be is really important.
BIMF: How would you explain your passion for chamber music to a non-musician?
Sarah: As a group of musicians that have to work together and communicate to make something whole. Every person is important and has their unique voice but has to be able to be on the same page as everyone else in terms of what ideas they're trying to convey. A chamber group can consist of great solo players, but when put together, can sound weak. You can't be selfish as it is a team effort and each person is important with an equally important role to play. At the end of the day, everyone has to blend well and know when to lead, and while leading still know when/how to blend. Chamber music is such a different mindset than when you're playing solo.
BIMF: What was one highlight of the 2016 Festival for you?
Sarah: Being able to perform in a strong chamber group. It's often difficult to be in a balanced group, especially when you're placed with people you don't know. Between different playing styles, musical backgrounds, and different personalities, sometimes it's tough. I was really fortunate that my group really meshed well together from the start. I was also so inspired by the other musicians I worked with. They had such great work ethic and strong musical ideas that it helped push me to be better and improve. I also had a great coach, Elinor Freer that helped the group tremendously.
During the festival, I also had the opportunity to learn a lot of solo repertoire. I was in the studio of Sergiu Schwartz, and he helped me prepare and improve so much in the few weeks I was there. Being able to work with him is such a privilege as he really knows how to work with every student and address problems they have. He really takes your playing to the next level and is so dedicated and supportive. I had the opportunity to perform a sonata that I had just started a few days into the Festival; I was definitely pushed to be the best I could be in the few weeks I was there.
The Festival is wonderful because of how many performance opportunities there are. You can get so much out of being there and can leave a completely different player.
BIMF: What's next for you after the Festival? What are your career goals?
Sarah: I have an online fashion publication that I manage and have a tendency to neglect it when I have violin projects going on. Whenever I'm back home, I try to catch up and attend fashion & beauty events, I preview upcoming collections, and collaborate with a few brands here and there. I recently collaborated with Estée Lauder and almost cried (embarrassing, I know) when I received the email.
Currently, I'm preparing to leave for Switzerland as I'm pursuing my Master de Concert at the Haute Ecole de Musique de Lausanne. I'm learning repertoire for the upcoming year and am trying to learn and improve as much as I can while abroad. I'd love a career where I could just perform and travel all over the world.
BIMF: What advice would you offer to an aspiring musician?
Sarah: I think that to make it as a musician you have to be extremely hard working and be different. It sounds like such an obvious thing to say – but I think in this day in age, it's harder than ever to have a successful career. There are so many people wanting to be musicians, and so many people that are good. It's just hard to stand out.
I think a trap people fall into is trying to be like someone else. It's important to have role models and people you look up to, and be inspired by their playing, but you shouldn't ever try to sound or be like them. They already have their career, and there's already someone that sounds like that. To be successful, you just have to push through, have your own unique sound. Keep reminding yourself that if you work hard and love what you do, you'll be successful no matter what.