Q&A with Taylor Shea, viola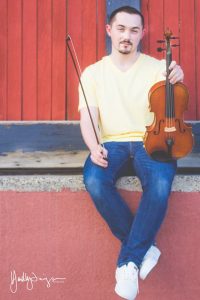 This past summer the Bowdoin International Music Festival welcomed 255 student participants from 27 countries and 30 states, including 17 remarkable Festival Fellows. Sixty-five percent of these participants received scholarship funds from the Festival. In celebration of an incredible 2016 season and in anticipation of an even better 2017 season, we've reached out to last year's participants to reflect on their experience at the Festival and their lives as musicians.
BIMF: What are some of your earliest musical memories?
Taylor: I remember taking an interest in stringed instruments sometime in elementary school. Several times a year the younger students would go listen to short concerts given by fifth and sixth graders in the band and orchestra. I was always intrigued by the stringed instruments, and more than anything I wanted to understand how they were able to produce sound when played with a bow.
BIMF: At what age did you start playing your instrument?
Taylor: I began playing the violin when I was 10. I wasn't particularly drawn to it over the other instruments, but it seemed like the best place to start due to its convenient size. It wasn't until the spring of my eighth grade year that I had the opportunity to begin taking private lessons.
I realized when I reached high school that I played at a much lower level than my peers, and while it was discouraging at first it eventually fueled my motivation to improve. An older friend offered to teach me to play the viola after my freshman year. I thought it could be a fun summer project. I enjoyed it more than I expected, and in the fall of my sophomore year I began private viola lessons and played viola in my school orchestra while I continued my violin lessons. I was ecstatic to attend Interlochen and Tanglewood as a violist, and over time my violin playing was snuffed out. By my senior year I knew that I wanted to pursue music performance.
BIMF: Does the instrument you play on have a story?
Taylor: My instrument is from Boston, made by Christo Wood in 2012. I had the good fortune to spend Christmas break of my junior year with relatives in Newton, and we purchased my viola from Carriage House Violins the day after Christmas. I still love it just as much as I did the first time I played it. It has a bright tone (something I do not mind in a viola), is 16 ⅛ inches long, and possesses a sweet, singing upper register as well as a deep, clear lower register.
BIMF: If you could play with any musician who would it be?
Taylor: Tabea Zimmermann is probably my greatest musical inspiration, so playing with her would be a dream come true. I find her playing to convey her musical intentions and understanding of harmonies more clearly than any other musician I can think of, all while remaining unbelievably vocal and refined. Every recording I have of hers leaves me breathless and some even move me to tears.
BIMF: How would you explain your passion for chamber music to a non-musician?
Taylor: The best description I can think of is that chamber music can be a lot like reading a poem, short story, or novel except you get to experience it with other people at the same time. It could be tragic, humorous, mournful, and even epic. It can make you laugh or cry or it can make you feel something you can never begin to understand, something you will never find the words to describe. It can transport you to faraway times and places and give you a glimpse inside the mind of an artist who may have written it two hundred years ago. When I play chamber music, I get to discover all of these things as I play, and all it takes is another willing instrumentalist.
BIMF: What was one highlight of the 2016 Festival for you?
Taylor: Ayano Ninomiya, Amir Eldan, and Tao Lin performing the Brahms B Major Piano Trio. That was a performance that had me on the edge of my seat. The faculty recitals made me feel very fortunate to be at the Festival, having the opportunity to learn from these phenomenal musicians. I also consider myself extremely lucky to have heard Augustin Hadelich play the Beethoven Violin Concerto, which is one of my favorite concerti for any instrument.
BIMF: What advice would you offer to an aspiring musician? 
Taylor: Actively seek out all the musical opportunities you can. It can be frightening to branch out and take new risks, but there are a lot of doors out there just waiting for you to open them. Whether these doors lead to lessons with a teacher you admire, a workshop for a musical style you're unfamiliar with, or even a new performance opportunity, you will often be surprised how much impact one decision can make. You may make a new friend for life or get to meet one of your icons, but only if you stick your foot out the door and challenge yourself.
Don't compare yourself to others. The most accomplished musician on the planet will never be 100% happy with a performance. We are self-critical by nature. Chase your own goals and dreams, and remember that your future is in your hands, nobody else's.