Q&A with Victor Lin, piano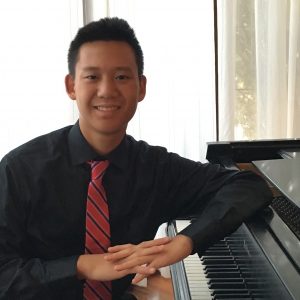 This past summer the Bowdoin International Music Festival welcomed 255 student participants from 27 countries and 30 states, including 17 remarkable Festival Fellows. Sixty-five percent of these participants received scholarship funds from the Festival. In celebration of an incredible 2016 season and in anticipation of an even better 2017 season, we've reached out to last year's participants to reflect on their experience at the Festival and their lives as musicians.
BIMF: What are some of your earliest musical memories?
Victor: When I was an infant, my mom used to take me to piano stores and I would try out the pianos. Also, I remember that at one of my earliest piano lessons, I freaked out when I first saw half notes because they were so fast.
 BIMF: At what age did you start playing your instrument?
Victor: I started taking piano lessons when I was six years old.
BIMF: Does the instrument you play on have a story?
Victor: My piano is a Bechstein Model M (5ft 11in). It was made in the late 1980s. It was one of the last pianos made with ivory keys.
BIMF: What is the longest you've ever spent preparing a piece of music?
Victor: In my first public performance, I played Beethoven's 25th piano sonata, which I had been working on for almost two years.
BIMF: How would you explain your passion for chamber music to a non-musician?
Victor: It's amazing how chamber music is able to bring together its components while still retaining each member's individual voice. My favorite part is the process of creating blended sounds, transforming the piece from three soloists playing their parts into a cohesive unit. The way the members are simultaneously leading and listening is also a unique experience.
BIMF: How do you make a well-known piece of music your own?
Victor: I always try to form my own ideas before going to recordings. However, I find the interpretations of professionals to be helpful guides that open new doors for my thought process. For me, it takes a lot of mixing and experimenting to create a fresh interpretation, which usually ends up being a blend of my original ideas and those from the recordings.
BIMF: What was one highlight of the 2016 Festival for you?
Victor: I really enjoyed playing at community concerts. It was uplifting and encouraging seeing how much the audience appreciated the Festival students coming to play for them.
BIMF: What's next for you after the Festival?
Victor: I am writing applications for college and keeping up with school while working on my audition pieces. For now, I'm planning to pursue a dual degree in piano performance and economics.
BIMF: What advice would you offer to an aspiring musician?
Victor:  I think the most important thing to remember is to express yourself. It's easy to get caught up in the idea that the audience is judging you, but remember that they're there to enjoy the performance. When you perform, never forget that you are presenting the audience with a new interpretation that they've never heard before. Be proud of what makes your playing special.