Q&A with Zion Lee, violin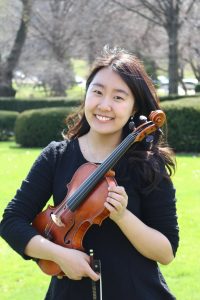 This past summer the Bowdoin International Music Festival welcomed 255 student participants from 27 countries and 30 states, including 17 remarkable Festival Fellows. Sixty-five percent of these participants received scholarship funds from the Festival. In celebration of an incredible 2016 season and in anticipation of an even better 2017 season, we've reached out to last year's participants to reflect on their experience at the Festival and their lives as musicians.
BIMF: What are some of your earliest musical memories?
Zion: My favorite school event in elementary school was the talent show. In the third grade I did two acts: one was a violin performance and the other was a bit of yodeling. I still remember yodeling 'The Chime bells' in a nice prairie girl dress and running backstage to change into the most 'cowgirl' outfit I had for the 'Hoedown' (it was really just a t-shirt and jeans and some cowboy boots.) It was the first big performance I did, and it was thrilling. I think it was at that moment, with the stage lights and applause, that I decided I wanted to perform for people for a living.
BIMF: At what age did you start playing your instrument?
Zion: I began playing violin when I was five years old. I initially wanted to play violin after watching a performance of Sarah Chang play in a pink dress. It was probably the dress that caught my attention, and in my little 4-year-old head I somehow thought 'If I could play the violin, then I could wear that dress!' 
BIMF: Does the instrument you play on have a story?
Zion: My violin was made in 2003 by violinmaker Philip Perret. One thing everyone finds fascinating about my violin is the small gold plate/medallion on the tailpiece with the Star of David carved into it. According to Phillip, the violinist who requested him to make the instrument was a Holocaust survivor. He was a young boy in Germany at the time, and luckily got to leave the country. However, his violin teacher was not able to leave, and he wanted to dedicate the violin to the memory of his teacher.
BIMF: If you could play with any musician who would it be and why? 
Zion: I would want to collaborate with jazz vocalist Natalie Cole. My mother bought her album 'Unforgettable: With Love' and would play it in the car when I was very young. The freedom and organic beauty of her singing have ever since been qualities that I wish to emulate in my own work. 
BIMF: How would you explain your passion for chamber music to a non-musician? 
Zion: My passion for chamber music comes from how it brings musicians together to communicate and collaborate. Just as there are team sports for athletes, there is chamber music for musicians. As each player gets their own role and with dedication, respect, and the passion to make something great happen, chamber music unfolds to become one of the greatest experiences a musician can ever have. 
BIMF: How do you make a well-known piece of music your own?
Zion: Research and practice are central to the development of my interpretational identity. Within the context that I found from my studying, I apply my own memories and emotions, building a musical vision rooted in the life of the composer and yet told through my own.
BIMF: What was one highlight of the 2016 Festival for you?
Zion: The most memorable highlight was the piano trio I played with. Aliya Ultan (cello), Zeru Wang (piano), and I played Beethoven's Piano Trio Op. 70, No. 1 'Ghost', coached by Tao Lin. From rehearsals to coachings to performances, our group dynamic was full of energy. I can still remember the moment backstage before our performance of the 2nd and 3rd movements at Studzinski Hall. I was very nervous, but Aliya and Zeru took all that anxiety away when they started talking about how thankful they were to have been given this opportunity to play together as a group. Tao Lin was also an inspiring coach, full of passion and ideas. He even agreed to come with us for a lobster luncheon!
BIMF: What's next for you after the Festival?
Zion: I will be continuing my college studies in my junior year of violin performance at the Cleveland Institute of Music, studying with Ivan Zenaty and Jinjoo Cho. I am also looking forward to becoming more active in the school as CIM's Student Government Association president. I hope to someday become the president of a music conservatory, while continuing my own violin performance and studies.
BIMF: What advice would you offer to an aspiring musician?
Zion: I would like to tell aspiring musicians to not be afraid to reach out, find friends, and make connections with other people. Individual practice and study definitely helped, but I would not be so sure of my dreams and passions if it was not for the advice and encouragement of my parents, friends, and teachers. The past two summers that I spent at the Festival really opened up a whole new network for me that I was not exposed to growing up in a public school environment. Now, I have so many teachers and friends to look to for inspiration and advice. Music is not meant for the enjoyment of a single individual, but rather for the construction of a uniquely connective and communicative experience between us all—the composers, the performers, and our audience.