Alumni Spotlight: Cort Roberts '19
Cort Roberts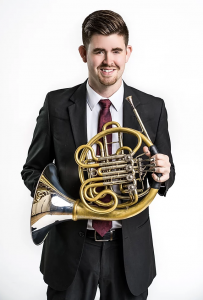 , 2019 horn fellow, joined The Brass Project last May. The ensemble is dedicated to commissioning and expanding brass chamber music beyond the standard quintet instrumentation. Since 2016, the group has commissioned nearly 40 new works for bass sextet, including their most recent premiere of Exodus written by Syrian composer Kinan Abou-afach about the Syrian Refugee Crisis.
Cort writes "one of my favorite aspects of being a member of The Brass Project is that it allows me to exercise other skills alongside my performance. I completed a minor in business during my undergraduate studies, so I love having the opportunity to think creatively about different projects. It is deeply rewarding work and it makes the performance aspect that much more meaningful."
Since May, The Brass Project has performed at Rockport Music (Mass.), Bravo! Vail Music Festival (Colo.), as well as a concert tour in Houston, Texas. These residencies included community outreach and interactive educational concerts for students of all ages.
Cort reflects fondly on his Festival experience: "During my time at Bowdoin I had lunch with many faculty and guest artists, and each offered their own unique perspective and wisdom on having a career in chamber music. These conversations were just as valuable as any lesson. Furthermore, my amazing and generous sponsors, Kent and Natalie Mitchell, have gone above and beyond to help me in my goals. After sharing my vision for The Brass Project, they put me in contact with a presenter in Stowe, Vermont, and now the ensemble is scheduled to perform there in May of 2020! I love staying in touch with my sponsors and can't wait to see them again in May."
The Brass Project has another busy year ahead. To learn more about the ensemble, visit: www.thebrassproject.com.